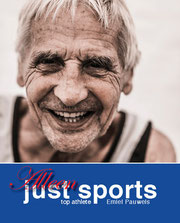 Emiel Pauwels - ein Ausnahmeathlet!
Ich traf ihn im Sommer 2013 in seiner Heimatstadt Brügge in Belgien. Das erste mal jedoch sah ich ihn in Zittau bei den Europäischen Meisterschaften für Senioren. Damals wollte ich mit eignen Augen sehen, was ich in Jan Tenhavens "Herbstgold" gesehen habe - Seniorensport der obersten Liga.
Mit einem Bild von Emiels Zieleinlauf gewann ich mit dem Wettbewerb "Sport und Action" der Zeitschrift Photographie (4/2013) neben dem 4. Platz einen ganzseitigen Abdruck des Bildes - das ich zu Emiel schickte. Den Rest in Kurzfassung: Ich fuhr nach Brügge/Belgien mit der Projektidee "Just sports" und fotografierte meinen ersten Senior-Athlethen auf dem Marktplatz von Brügge. Es waren fantastische Tage in der Stadt und mit Emiel. Er ließ es sich nicht nehmen eine Stadtwanderung mit uns zu machen und uns in seinen Tagesablauf auf seinem Sportplatz einzuweihen.
Ich fuhr mit Martina Clemens, einer Freundin aus meinem Fotoclub dorthin und wir wurden herzlichst von Emiels Freunden Carlos und Trees empfangen. Für vier Tage hatten wir ein volles Programm - und eine Handvoll wunderbarer Photos im Kasten.
Am 22.12.2013 wurde er 95 Jahre alt.
Nun hat ihn der Krebs fast besiegt und er hat entschieden das Krankenhaus zu verlassen und sich auf seinen letzten Weg zu machen.
Er verbringt die letzten Tage im Kreise seiner Familie und Freunde.
Ein Ausnahmemensch - wie ich finde!
Emiel Pauwels - such a talented athlete !
I met him in the summer of 2013 in his home town of Bruges in Belgium. The first time I saw him, however, was in Zittau at the European Championships for seniors. At that time I wanted to see with my own eyes what I've seen in Jan Tenhavens "Autumn Gold" - senior sport at the top league .
With a picture of Emiels finish I won the competition "sports and action" of the  German magazine named "Photographie" (4/ 2013) in addition to the 4 Place a full-page print of the image - that I sent to Emiel . The rest is in a nutshell: I went to Bruges/Belgium with the project idea "just sports" and and photographed my first senior of athletics at the market square of Bruges. There were fantastic days in the city together with Emiel. He did not miss to take a walking tour to do with us and dedicate ourselves in his daily routine on his sports court.
I went with Martina Clemens, a friend from my photo club there and we were warmly received by Emiels friends Carlos and Trees. For four days, we had a full program - and a handful of wonderful pictures in the box.
On 12/22/2013 he was 95 years old.
Now the cancer has almost defeated him and he decided to leave the hospital and to set out on his last journey.
He spends his last days with his family and friends.
An exceptional man - I think!